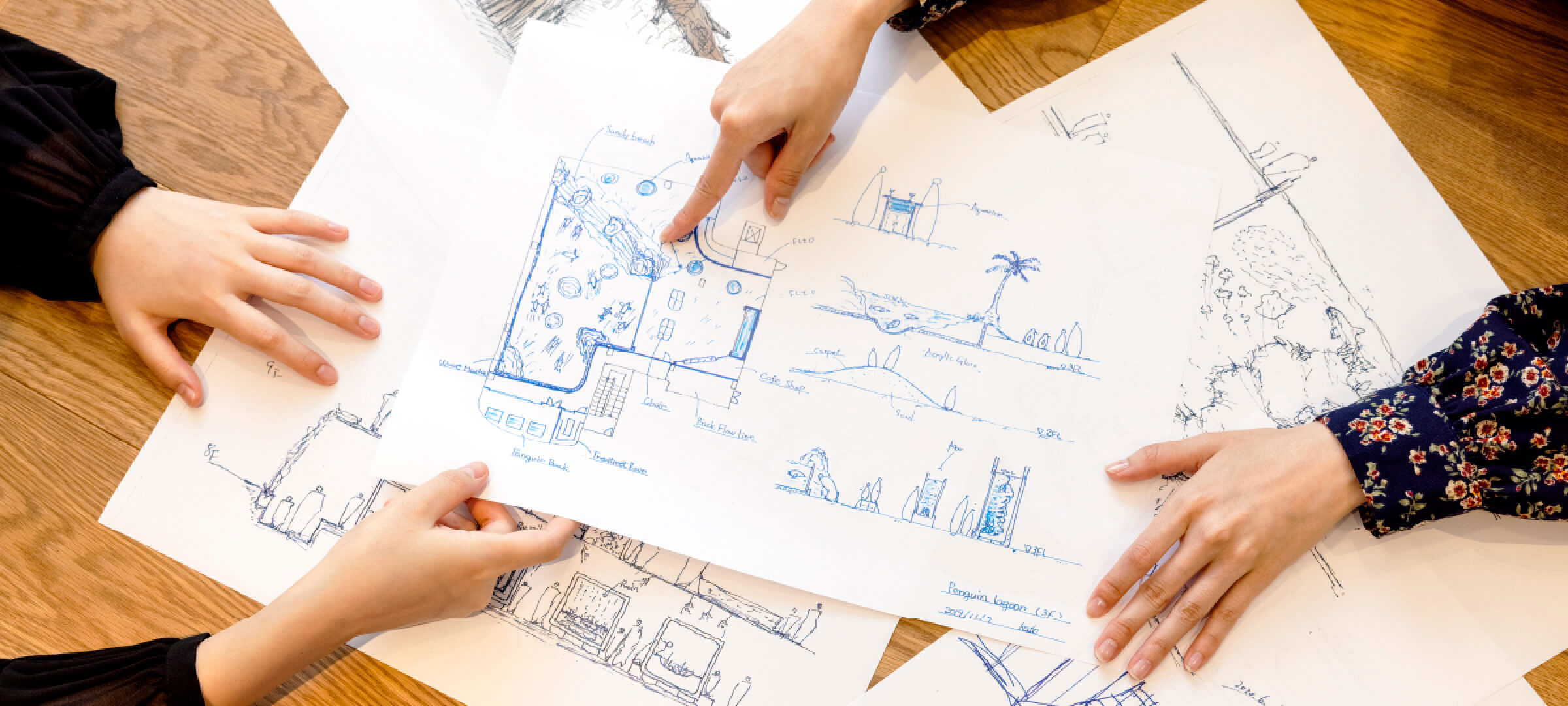 process
Business Process
Our services include partial planning and design work, and integrated services from business planning to operations.
1

Business Plan

Orientation, Concept Planning

2

Planning

Consultation, Technology

3

Design

Construction, Display Design, Special Facilities, Construction Management

4

Installation

Installation Management

5

Town Building

Overseas Operations, Development & Management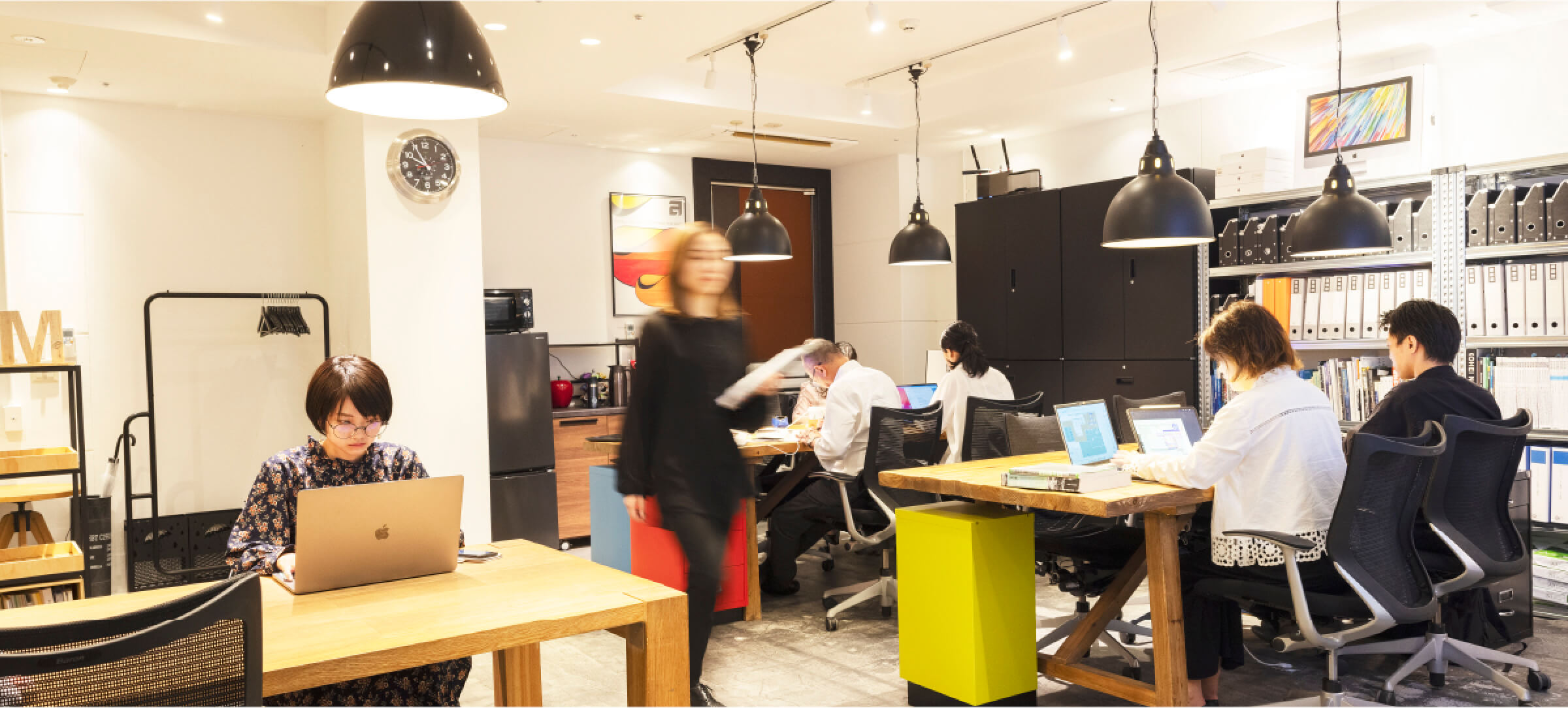 Style
Six Indicators
These indicators, which are vital to our work, will never change however much the world changes. Put another way, things other than these can be changed flexibly to respond to changes in the market.
01

Town Revitalization

Is everyone in town feeling invigorated? Are we providing something meaningful to society?

02

Creating a framework for sustained growth

Are we providing the city and its people with facilities that will last for years rather than simply building a facility? 

03

Providing value that goes beyond what is required

Are we ascertaining the needs of our clients, and providing what the end user is looking for?

04

Providing access to learning opportunities and new insights at any time

Are we always providing new insights for visitors rather than just having them visit once or being the same every time they come?

05

People-centered design for emotions and experiences

Are we creating designs that people will instinctively want to know about, and then take action and communicate with others?

06

Protecting the sanctity of life

Are we creating a system that allows humans and other creatures to coexist in their environment in a safe and secure way?
Team
Our Members
CEO·AQUARIST

Kato Naoyuki

Established an industry-first engineering division specializing in aquariums within a major construction company and developed a unique range of exhibition methods, including artificial seawater, seawater regeneration, and seawater supply reduction systems, that have established it as an urban aquarium business. He has been featured in the media in the past, as an engineer involved in aquarium planning both in Japan and overseas. Launched the AQUATIC PROJECT in 2014, the first of its kind to fuse modern art, aquariums, and aquatic creatures. 
·Motive behind establishing the company
I believe that museums are places to interact with living creatures, culture, and art, offering an "opportunity to encounter new insights", and connecting creatures and people, past and present, and into the future. We will continue, unceasingly, to challenge ourselves in order to 
provide a type of museum that has never been seen before.

MANAGING DIRECTOR·MANAGEMENT ARCHITECT

Shinohara Ken

He was transferred overseas as part of a major Japanese construction company. After approximately 20 years of construction experience overseas (including power plants, schools, hospitals, and hotels, etc. in the Middle- and Near-East, China, and the United States), he worked for the procurement department at the head office, discovering materials and equipment mainly from abroad and deploying them in Japan. Further, with a lighting fixture manufacturer, he developed LED system lighting equipment for office use and was the first to adopt it in Japan. In the aquarium business, he procured superior LSS equipment from the United States, which has been adopted by many aquarium businesses in Japan. After leaving the company, he served as Director and Facility Administration Manager for a 5-star international hotel, following which he joined MMD as a management architect.
Qualifications: first-class architect, first-class facility architect, building services engineer, first-class electric works execution manager, first-class plumbing work operation and management engineer, etc.

Corporate Officer·ARCHITECT

Shinjo Taro

Born in Tokyo, he studied architecture at a Japanese university and a British graduate school. He has designed the interior and buildings for the facilities of large-scale visitor attractions in Japan and China. He joined MMD after meeting the president, Mr. Kato, through his previous employment. In his designs, he is exploring "human experiences" in addition to "things".
·What does living with museums entail for you? 
The scenery we see every day takes on a different appearance after visiting a museum. I believe that living with museums means having the opportunity to gain these new perspectives. 
We strive to provide visitors with this kind of experience when they visit our museums.
·What do you keep in mind while enjoying your work?
I always try to face things positively and challenge them head-on.

manager

Chihan Kao

Born in Taiwan. Completed her Master's degree in Cultural Policy Research at the Shizuoka University of Art and Culture. Worked as a coordinator at a company producing commissioned art and public art, and was also involved in some art projects for Taiwanese and Japanese public facilities. Joined MMD in 2021, being responsible for project progress management, communication as well as planning.
·What does living with museums entail for you?
I believe it's having encounters with ancient and modern ways of thinking about other people and nature that helps me rediscover myself.
·What do you keep in mind while enjoying your work?
I try to be aware of all four seasons in their transition.
new comer
Their Voices
Assistant

Matsuda Reika

Born in Tokyo, graduated in Printmaking from the Department of Painting, Faculty of Art and Design at Tama Art University. Studied silk-screen printing and oil painting for four years. Joined MMD upon her graduation in 2022. She is in charge of planning and is utilizing the creative ideas and free-expression skills developed while studying fine arts.
·What kind of projects would you like to challenge in the future?
Ideally, I would like to be involved in a museum- or town-building project that contributes to environmental protection, healing damaged nature, and improving relationships between humans and living creatures.
·What do you keep in mind while enjoying your work?
Always keep in mind that the people around me are there to support me. Sometimes, I also play sports and spend time in nature to refresh my mind.